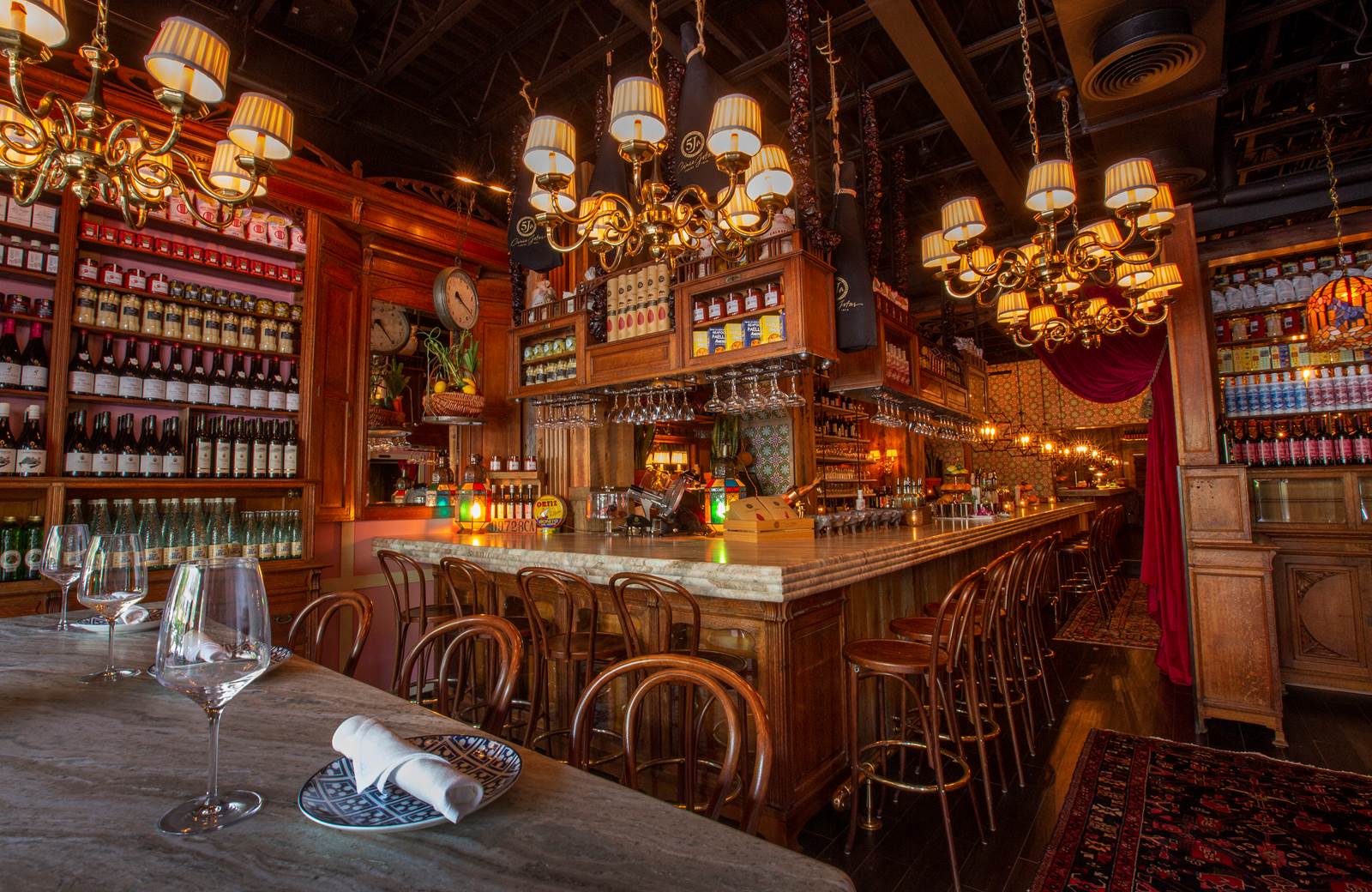 Inspired by the 'colmados antiguos de barrio' (old neighborhood grocery stores) of Spain, a Sherry Bar and Ultramarino welcome guests. An antique pharmacy (circa 1910) imported from Belgium — all original bookcases, glass cases and cabinets — finds new life inside Mama Delia, displaying an abundance of rarely available small production wines and distinct gourmet goods from Spain.
There is a variety of conservas (gourmet tinned seafood), some imported exclusively by Mama Delia and others housemade, but all crafted from the highest quality seafood, including cockles, razor clams, sardines with pimientos de Padrón, zamburiñas and mussels in escabeche. Potato chips also earn a spot on the shelves. But these all-natural fried-in-olive-oil Spanish varieties are truly unique — from the special yellow potato they're made from to the unusual flavors such as jamón and pimentón (smoked paprika). A select group of specialty cold-pressed and smoked olive oils can also be found at Mama Delia, including many of limited production. Dried spices, such as saffron and pimentón, are also for sale.
Not sure how best to use, say, the fragrant picual olive oil from Jaen? Chefs are on hand to answer questions and offer tips and recommendations.
"These are the items that I as a chef would like to have in my home," says Campos of Mama Delia's product curation process.
At the Chef Counter, a monumental 30-foot-long ornate marble bar, up to 20 guests can gather for glasses of fino en rama and charcuterie boards filled with artisanal cheese and cured meats from Spain, including hand-carved 100% acorn-fed jamón ibérico from Cinco Jotas, a company which Campos has an exclusive and privileged relationship.